You can add new temporary data files called cache to your Android phone every day as you use different apps. These files occupy a considerable amount of storage space as new data files are created every day.  
You should regularly clear your phone's cache files so that your phone's finite storage won't be used up quickly.
 We will discuss why cache files are created, why it is advantageous to clear cache files, how often you should clear the cache, how to clear the cache, what will happen after clearing the cache, and more in detail in this article.
Why do Android phones create cache files?
We should reduce load times for an app and improve its performance in general. Let's take a look at how cache files can help.
You can quickly recollect the details of an app that you launch on your Android phone thanks to the temporary data stored in cache files associated with that app.By caching your phone you are enhancing its performance, speeding up its functionality, and saving a lot of time.
Advantages of clearing the cache
It's important to clear cache files to make your phone work faster, but there are a few other benefits to it as well. Let's examine each of them one by one.
It is possible to save storage space on your phone by clearing the cache. But this is not a permanent solution, since apps create new cache files each time they are used. The result of piling up a lot of cache data on your phone is that it will perform slower, especially when you have insufficient storage capacity.

When apps don't work properly because of corrupted cache files, clearing the cache will help.

Security and privacy vulnerabilities can be caused by old cache files. The cache files of your web browser, for instance, contain sensitive information, so if an unauthorized user accesses those files, your personal information is exposed. Clearing them is therefore a good idea.

If you experience problems when you try to update an application, you can clear the cache to solve the issue.
How to Clear the Cache on an Android Phone?
In Android versions 9 and 10, you need to delete the cache files of individual apps separately. The following instructions explain how to do so.
Step 1: Go to Settings.
Step 2: Tap on Storage. (Samsung Device Users Go to Device Care -> Storage)
Step 3: Tap on Other Apps. (Samsung Phone Users Go to Advanced -> Other Apps)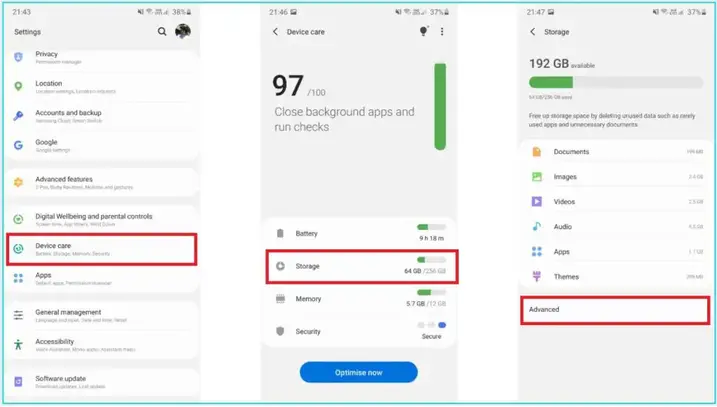 Step 4: Now you can see all of the apps you have installed. Select the app you wish to clear the cache for.
Step 5: The app's info page will allow you to clear the cache.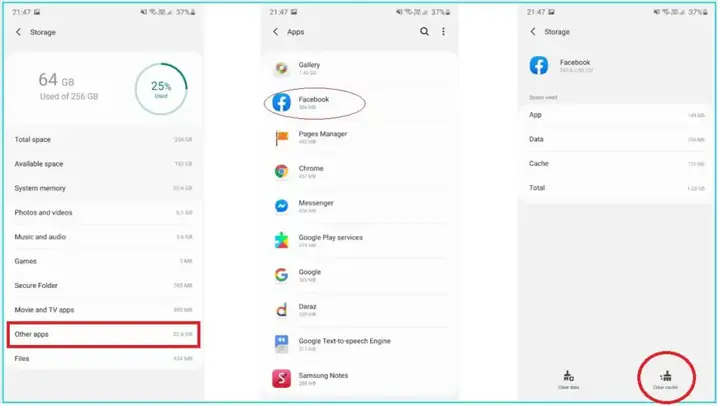 Step 6: Tap on OK in the popup box.
Follow these steps to update Android older versions.
Select Settings.

Go to the Application Manager.

Click on the app you want to delete cache files for in the list of installed apps.

When the app info screen appears, tap the CLEAR CACHE button.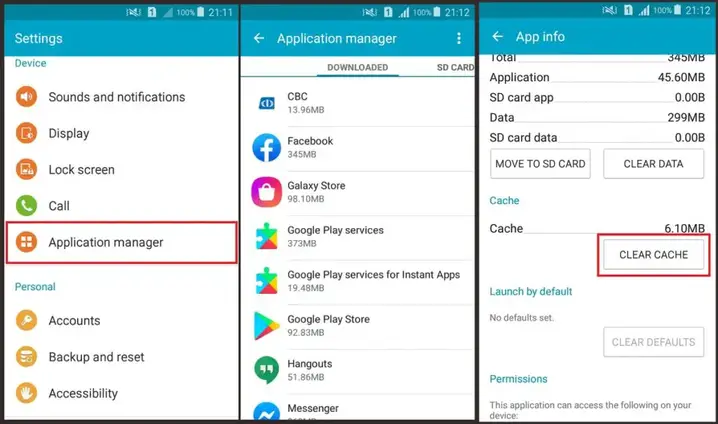 Following the below steps will enable you to delete all cache files on older versions of Android.
Note: In this case, all cache files refer to app and web browser cache files.
Go to Settings->Storage->Cached data

Tap on OK in the popup box.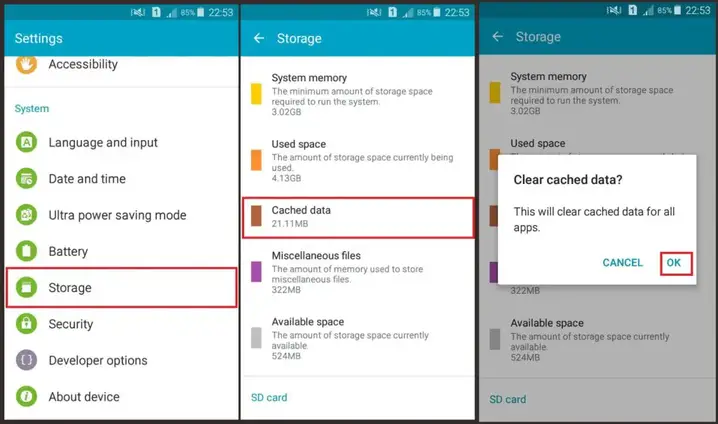 How Does Your Device React After You Clear the Cache?
You will regain some of the previous data storage allocation on your phone and the app will work as it always has, but when you launch the app for the first time you will notice that the app runs slower than before.
The app cannot smooth its performance if it doesn't have the data it used to smooth its performance. With time, new cache files will be created based on your usage.
The cache will not erase the saved login credentials for an app, which means you don't have to log in again. Additionally, information such as bookmarks, game progress or similar will not be deleted.
What is the Usefulness of Third-Party Cleaner Apps?
You can find a lot of apps on the Play Store that can help you delete unused caches and media files from your Android phone. However, there are some reasons that would prevent you from using these apps. Because
Their false claims. For instance, sometimes they claim that clearing the cache will increase performance.

Your phone will have a larger storage space if you have them

These programs slow down a phone's performance because they are constantly running in the background and consume system resources.

Most of the time, you are going to see ads and in-app purchases when you are using these apps.
As your Android device already comes with a built-in cleaning system, there is no real need for third-party apps, so you should avoid them altogether.
What is the difference between deleting data from Android and deleting cache on Android?
There might be another button named CLEAR DATA when you clear the cache.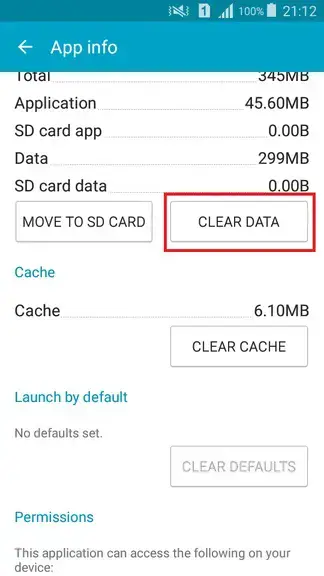 It is important to understand the difference between clearing caches and clearing data. The Youtube app is an excellent example of this difference. You can see your search history, artists outside your library, and albums you've browsed in YouTube's cache.
Clearing that cache will remove all the data mentioned above completely from your phone.
The data that YouTube stores on your phone is more important, such as login credentials, user settings, and databases.
You will also erase the app's cache and any important data it contains, as well as returning it to its original state at the time of installation.
Conclusion
When you clear cache files, your phone will run faster, gain more storage space, fix some app issues, and give you more storage space. However, you should not clear the cache frequently or with untrustworthy apps.
If you have questions about clearing the cache on your Android phone, please leave them in the comments section.