Google a bunch of stuff every day and we browse the internet all day long. Many of these searches are deeply personal and we'd like to make sure no one sees what we were looking for. 
To keep your browsing history clean, you need to regularly clear your google search history. We're going to show you today how to remove Google's search history from your iPhone.
Google search is saved in the iPhone
Your Google searches are saved everywhere on your iPhone. You can save your search history in the Google app, if that's what you're using. You can also see the search history if you use Google Chrome and Safari. 
If you want to erase history, you'll need to do it from all places. It's important to know that clearing your browser history and search history won't wipe out your passwords or anything else on the website. Additionally, some of your previous searches might show up as suggestions when you search.
How to delete Google search history from Safari on iPhone
You can delete the search history on Safari from the iPhone settings. Just follow the steps below.
Step 1
. Go to the Settings app on your iPhone.
Step 2.
Select "Safari" to open your browser's settings
Step 3
. Then click on "Clear history and site data" at the bottom.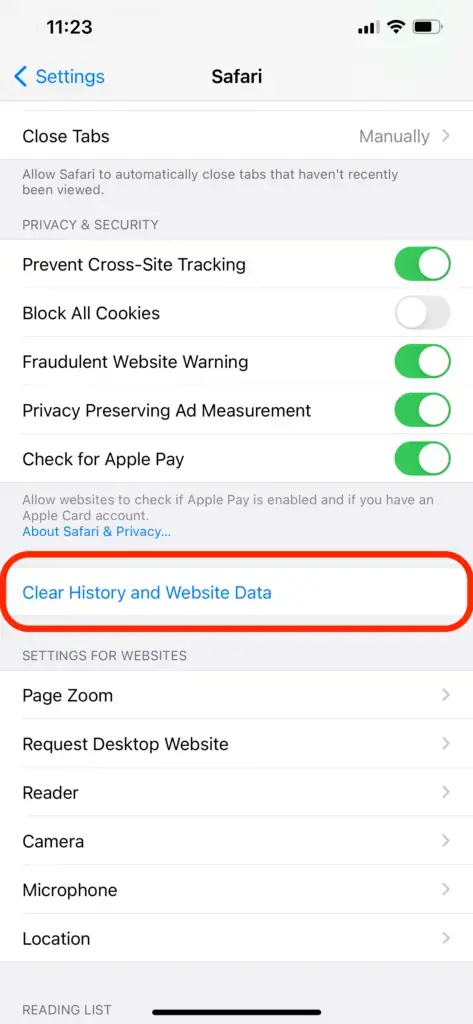 Step 4.
Select the button to clear your history and confirm the action.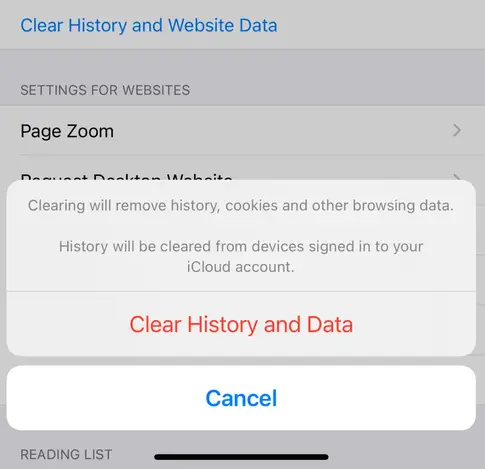 How to delete Google search history on iPhone with Chrome
Open Chrome and clear the history there to delete Google search history.
Go to Google Chrome

select the three dots that appear on the right

then click History

To clear browsing history, click "Clear browsing data"
You can now clear all your website activity when you clear your browsing history. It might not be possible to find old stuff in your web history.
How to delete Google search history from your Google account
If you have a Google account, you can clear your search history.  Use your phone or PC to log into your Google account. If you do this, you'll be clearing the search history on all of the devices linked to the google account that uses it.
Your iPhone accesses google.com.

Choose the activity type you wish to delete. This time, it's web and app usage.

Now go to the "Manage activity" tab.

You can now see the activities you have performed in the recent past. You can delete them.

Delete all history for a period within the period you selected by clicking on delete.
Other settings under My activity on Google.
You can also clear your search history and other data using one of these options. Let's check them out.
Auto Delete: you can set a period for your search history to disappear. Setting this up means you won't have to manually delete your search history every time. Your history willbe automatically deleted after a certain amount of time.
Visit google.com.

Choose web and app activity

then click on auto-delete.

Select a period. You can choose 3 months as an example.

Select "Delete older activities" to delete older activities.
YouTube history and Location History: Google lets you delete your YouTube history and location history from My Activity. You can delete the relevant history from your account by clicking either YouTube history or Location history from the homepage.
Using the incognito mode in Web browsing
Incognito mode or private browsing is when you go online without leaving a trace. This may be a good option for you if you wish to have more privacy when browsing the web. 
The information you enter into any website while using incognito mode will not be saved in the browser or Google account. Therefore, you need not be concerned about your browsing or search history being exposed.
Almost all browsers support incognito mode. Click here to enable it in Safari.
To open a new tab, open the browser.

Choose Private from the dropdown menu.

A new window in Safari has been opened with Private browsing enabled.
In chrome,
Chrome will open.

Click the three dots in the upper right corner.

Click on "New incognito tab" to open a new tab in incognito mode.
Close the incognito tab once you are done browsing and you will not have any web history to worry about.