Zoom has become an indispensable tool for many organisations and institutes. Everyone loves Zoom and uses it every day.  Zoom gained popularity over other video conferencing apps within a short period of time due to its ease of use and many features.
This article will focus on one such feature. You will learn how to create breakout rooms in Zoom.
What are breakout rooms and how do they work?
Zoom's breakout rooms take video conferencing to the next level. You can break up one meeting into several smaller ones. One meeting can now be split into 50 parts. The participants of each part can be assigned manually or automatically.
If you want, you can let them choose which session they want to go to. When the breakout rooms are created, the host and the co-host can switch between them to interact with the participants independently. 
You get an in-person meeting experience and make meetings more dynamic. When there are a lot of people in a meeting, the host can talk to one set of them at a time.
When it comes to configuring rooms, there are a number of options available.
Everyone can be seated in a room or they can choose if they want to go in a room. It is also possible to configure whether a room ends after a certain period and if participants are permitted to leave without leaving the meeting.
When breakout rooms are set up, the main meeting is being conducted and the rooms are being conducted independently. The choices you make will determine whether participants enter rooms or remain in the main session.
What is required to host a meeting with breakout rooms
Zoom has breakout rooms enabled for you

via your desktop or web client
A Desktop client is required for the host to be able to use the breakout rooms fully.
How to make Breakout rooms available to you in Zoom.
You can make 50 separate Zoom meetings out of breakout rooms, as we said before. Make sure breakout rooms are enabled in your zoom account before you go making breakout rooms. 
The steps below will show you how to enable breakout rooms in Zoom meetings.
Open zoom.us and log in to your account.

On the left side of your screen, under the "Personal " tab, you will find settings. Click it to view them.

Open the "Meetings" tab.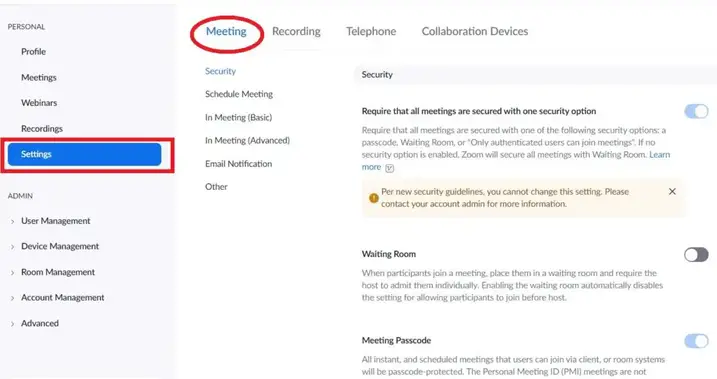 4: Look at the "in meeting(advanced)" section
5: Turn on the "breakout room" option.

When scheduling, there's another option that says "allow host to assign participants to breakout rooms.". Just click that button if you want breakout rooms.
You can now make breakout rooms when you're scheduling a meeting or hosting one.
How to create breakout rooms in Zoom
Now you're able to make breakout rooms from your zoom app when you schedule a meeting or host one. Just follow these steps.
After a meeting, create a breakout room
We will start the meeting

when you click on the "Breakout rooms" icon on the bottom

section, you can define how many rooms you want. These rooms can now be assigned automatically, manually, or based on the choice of the participants. Click "Create rooms" to assign one of the options.
Your rooms will now be created. Please note that they will not begin to operate until the "open all rooms" button is clicked. There is also the option of adjusting some additional settings by clicking on the options icon.
 A few options are listed below.
Participants will have the option to pick their own room when they join the meeting.

Auto-close breakout rooms: you can set a time when the rooms will automatically close.

A countdown timer will be set up for participants for the duration of the room

You should allow participants to join the main session without entering any breakout rooms if breakout rooms are created. Participants will be able to get out of the breakout rooms and join the main session without joining any breakout rooms.

Move all participants in the meeting to separate rooms: this will make all participants in the meeting into separate rooms. The participants are not required to join a room if this box is not checked.
What to do when managing breakout rooms
Assign participants:
Click the "Assign" button next to the rooms to add one or more people to that room
Managing participants:
Participants who have not joined a room will be shown as "not joined" next to their names. It is possible to add them to a room.
Breakout room options:
The breakout room window gives you options for joining, leaving, and closing all rooms.
Requests for help:
The host can join a room by clicking "ask for help" in the participant's room. They'll be notified by a message.
Broadcasting a message to all rooms:
Messages can be sent to all rooms at once by the host or co-host. You can broadcast the message by using the "breakout room" option, then clicking "Broadcast message to all" after the message has been entered.
How to share a screen across all breakout rooms
The same way you can send a message to every breakout room, you can also share your screen with them.
 Simply follow the steps below.
Click "share screen" in the meeting controls.

Select "Share with breakout rooms".

Click the content you want to share, or a window or the entire screen.

Click Share to show the screen to everyone.
The limitations of breakout rooms
When users join Zoom from mobile devices, they cannot manage breakout rooms, but they can participate in them.

A cloud recording will capture the main session. A local recording will capture the participant's screen.

Each room can have a different number of participants.