Facebook is a platform used by many people every day. Most people have a Facebook account nowadays. When you want to find someone on Facebook, you just need to type their name into the search bar, and the results will appear.
You may have a picture of someone but no information about them yet, so how can you find them on Facebook? That's what this article is all about. Find someone on Facebook with a picture.
You should be aware that the methods described in this article do not guarantee success at 100%. It depends on the extent to which their Facebook account is public on the internet when searching for someone on Facebook using their picture.
These methods might not work, for example, if the users' posts and pictures are set to the visibility setting 'friends only' and they have no photos tagged to them. It is nevertheless possible to test them
Find the Facebook profile for the image using the file name
To find someone on Facebook with a photo, you need it on your hard drive or somewhere on the web. It's more likely to be a picture from their own Facebook account if you got it from the internet. It's easy to find on Facebook if you know the "image id.". You just need the "image ID."
1. If you have downloaded an image, look at the file name.
2. Use the right-click menu in your browser to open the image in a new tab, then check the URL.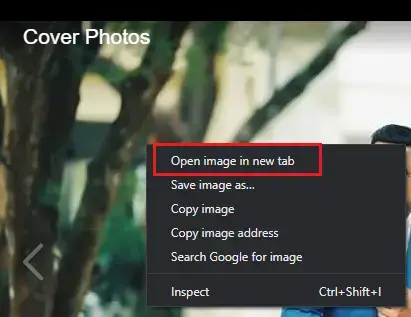 3. Look for the file name, it should have the following format: xxxxxxxxx_yyyyyyyyyyyyy_zzzzzzzzzzzzzzz_n
The x, y, and z represent random numbers on the file name. On a web browser, you should see something similar to this when viewing an image URL.

Next, copy the second set of numbers (the numbers indicated by 'y'). This is the image identifier. Copy the middle number set from the URL for the image. This id could be composed of any number of characters, but only of numbers. Enter it in a text document.
You might be able to find the original picture on the profile where it was originally posted.
To make this method work, the image should have been made public. Otherwise, you might receive a message as "Sorry, this content is not available at the moment."
Searching for images on Google
Facebook doesn't support image searches so you can't find someone by using a picture. You can still look for images on the internet through Google's image search. When you upload an image to Google it will find matching pictures. This can also be used to find Facebook images.
Go to the results page on Google and search for something random.

There are tabs below the search bar, including 'All, Images, Videos…', etc. Click on 'Images'.

A small camera icon will now appear in the search bar. An image URL can be pasted in the URL box or you can upload an image file. If you click on it, a dialog box will appear. Click the search button.

You will now see the results, below the top results are links to "visually similar images"

You'll be taken to a results page with images when you click on that. Search Facebook for the pictures of the person you are looking for.

After clicking the link, the image will open in its own window. Just beneath the image, you will find a link that has a globe icon. Clicking this icon takes you to the image's location.
If this person you are looking for has posted a picture somewhere else (not only on Facebook) it will most likely turn up as the result when you search for it using this method. By using this method, you will be able to gather some useful information about the individual. 
When the person you are looking for has a LinkedIn account, you'll know their name and occupation, and based on this information you can search for them on Facebook.
It is possible to make this image search more specific to Facebook.
 The disadvantage of this method is that it will narrow down your search results solely to Facebook. However, you can give it a try if you wish.
If you have any concerns about your personal privacy on Facebook after reading this article, you should not worry. When a user does not intend to display themselves on Facebook, Facebook protects their privacy. 
Facebook does not support image searching, and it does not support any other type of search other than name searching. Consequently, if you have someone's email address or phone number, you cannot search on Facebook and find a match.
Facebook only allows search by name, so if you correctly spell that name, it will return the intended results. Here are some tips for protecting Facebook.
You should post fewer pictures on Facebook

Set the privacy for your pictures to "friends only" if you are posting them

Do not add people you have never met to your account.

Be sure to keep your phone number or email address as 'only me', rather than 'public'.
Make sure you are safe when surfing the web and using social media. Respect others' privacy and protect your own. By doing so, you will avoid a lot of problems.